The digital zoom cameras have image processing capabilities within the camera that allows for zooming without degrading photo quality. Over the years, cameras have evolved from the bulky manually operated designs to the automatic, digital cameras with lots of functionalities and enhancements. It now takes a snap of your finger to get a photo processed.
There are different camera designs with various functionalities that are best suited for certain situations. The choice depends on what one is interested in, and if you want to take capture great moments from far, here are the best digital zoom cameras to help you out.
The digital zoom cameras are sometimes referred to as bridge cameras, Opto zoom cameras, superzoom cameras, ultrazooms, or mega-zoom cameras.
List of top digital zoom cameras
Nikon Coolpix P900
Nikon P900, part of the Coolpix series, might just be the best digital camera out there. It has been ranked number one by many camera enthusiasts and they've all done it for a reason. The Nikon P900 has an 83x optical zoom along with a 166x dynamic fine zoom that lets photographers capture details that they cannot possibly see with their naked eye. The camera also has a wireless connectivity feature that lets users connect their smartphones or tablets for sharing the moments they've captured instantly.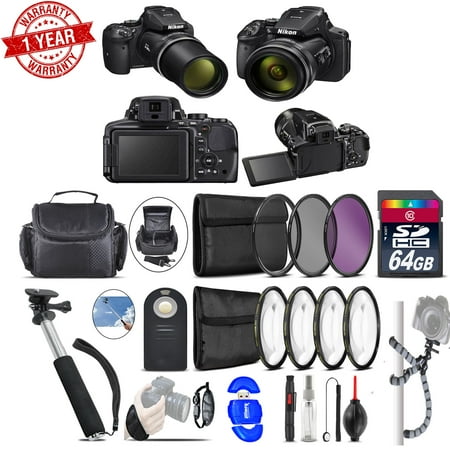 Nikon COOLPIX P900 Digital Camera + Spider Tripod + Monopad + Case – 64GB Bundle
Price at Walmart -$595
Panasonic Lumix DMC-FZ300
The FZ300 is the upgraded version of the FZ200. It brings in a lot to the table like 4K video recording and an impressive low light photography. There is a feature to pull out 8-megapixel images from the captured 4K video. The body of the FZ300 is dustproof and splash-proof.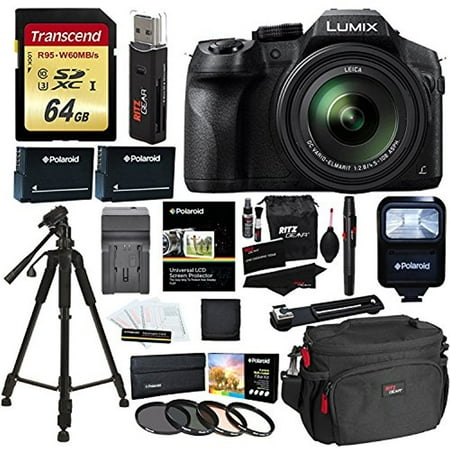 Panasonic LUMIX DMC FZ300 4K Point and Shoot Camera with Leica DC Lens 24X Zoom Black + Polaroid Accessories + 64GB SD Card + 57 Tripod + Ritz Gear Bag + 2 Batteries + Charger + Filter + Cleaning Kit – Price at Walmart: $559.99
Panasonic Lumix DMC-FZ1000
Recommended by enthusiasts all over the world, the FZ1000 gives photographers more control than ever. It has a large image sensor and the best autofocus performance in its class. It is highly recommended for those wanting equal performances from both photos and videos.
Sony DSC-RX10 Mark II
Sony's DSC-RX10 Mark II is their flagship digital camera that boasts of 40x super slow-motion video capture. Sony has made it possible to capture a super slow-motion video on a digital camera with its high-end Exmor RS CMOS sensor. The camera can also be used to capture frames at 1/32000 of a second by using a rolling shutter which removes distortion.
Nikon Coolpix L840
Nikon Coolpix L840 has a handy design and a plethora of features that make it a good value for enthusiasts. It has features like Wi-Fi and NFC which can be used for sharing images and videos on the go. But the feature that truly stands out is the 38x optical zoom and 76x dynamic fine zoom. It has a large 3-inch display that lets users see all the images and videos of high quality.
Canon Powershot G3-X
Canon Powershot G3-X is a compact and rugged digital camera that is built to be taken on adventures. It has a 25x optical zoom along with a combined 100x zoom with its optical image stabilizer. An all-new image sensor is present on the G3-X. The LCD screen can be tilted up to 180o which allows the users to take the perfect selfie at a very high resolution.