Guide to Flying Drones Safely
Flying drones can be fun and useful if done properly, but can also be a hazard if the pilot does not observe safety precautions and other best practices. A drone out of control is a hazard to air traffic, if above or near people, sensitive equipment, or inside the airfields.
To learn how to fly your drone without crashing, here are the dos and don'ts of flying Unmanned Autonomous Vehicles (UAVs). The first thing is to ensure that you have a reliable drone, otherwise, it will be a struggle to work with an inefficient or unreliable UAV. Some of the reliable drones brands include;
Dos of flying drones
Do learn about drones and how they operate. You need to understand how a drone works and all the risks it presents to the pilot and others. Explore how the multi-rotors work, the technology they use as well as all the potential risks.
Do observe all the flying rules and regulations as well as the manufacturer's recommendations. Stay up to date with developments in UAV technology and get to know the improvements in the controls and safety of the flights.
Do keep a safety zone around the drone when taking off and landing. If there are people around these areas, such as spectators, make sure that you inform them in advance.
Do pre-flight test power the drone and test before flying. Turn on the drone, the controller, the transmitter, a smartphone app, and then hover the aircraft to determine if it is able to fly safely and reliably. In addition, perform a post-flight inspection to find out if there are any damages to any of the drone components.
Do plan for emergencies and ensure that even when you lose control of the device, the drone will not injure people, cause accidents, or damage property. Communication or view signals can fail and you need to know what to do when this happens. One way is to set and enable the emergency autopilot option. The return-to-home feature enables the drone to safely return to a set home point in case of a malfunction such as loss of communication, or system, or component failure.
Do pay attention to battery power limitation: Check the maximum battery life from the drone's manual. When flying, always keep a battery reserve of at least 20 %. For example, if the battery has only 10 minutes to go, do not fly away to a distance that takes more than 4 minutes. This will allow the drone to fly for 4 minutes to the destination, take four minutes to come back, and still remain with a 2 minutes battery reserve.
Always give way to the manned aircraft, especially during their takeoff or landing. Other times you must maintain your drone below a height of 400 feet above ground level. When flying, manned aircraft are usually above 500 feet. The 100 feet between the manned and unmanned aircraft creates a safe buffer zone between the two.
Do fly the drone within line of sight. When the drone is visible at all times, you will have more control and the ability to ram into objects or cause accidents. However, avoid flying in a direction that requires you to look directly into the sun since this may affect visibility.
Do turn off the propellers of a drone that is crashing into the ground to minimize the damage to the parts or injury in case it falls on someone. However, it will depend on the type of fault and how much control you have over the malfunctioning aircraft.
Do check the motors and propellers and confirm that they can still spin freely before flying again after a crash. Even when there is no damage, tiny bits of stones, dirt, and other debris may get into the drone during the crash. These can lodge in the motors or moving parts and cause them to jam and damage other components or systems such as the electronic speed controller (ESC) due to the excess current.
Parrot Pf722001 BeBop rone, Blue
Don'ts when flying drones
Do not fly over populated areas, unauthorized areas, near sensitive installations such as power lines, airports as well as too far when you do not have experience and ability to control the device properly. You must adhere to all the regulations based on your location.
Drones shouldn't be flown inside airfields, aircraft flight paths or flight lines, restricted areas, over unprotected people, and in other places that endanger the lives of people, compromises security or privacy as well as increases the potential for damage to property. You may need to consult the specific county map that specifies the no-fly zones.
Don't operate the drone under the influence of alcohol or drugs that may impair your judgment or ability to safely control the aircraft. There are many variables in drone flights and you must be in a position to identify problems and respond fast whenever there are safety issues, increasing the potential for a collision or emergencies.
Do not fly unmanned aircraft over accident areas. You cannot fly over an accident scene to take videos as rescue teams are assisting the victims. This may interfere with the people providing assistance or even those who are injured and in need of medical help. In addition, it may interfere with other emergency operations such as when medical helicopters need to land.
Don't solely rely on automated flight control modes. Although GPS locking and stabilization are great features, a failure in transmitting or receiving the commands can lead to problems. For this reason, the operator should know how to manually take control of the flight and avoid disappointments.
Atomik RC Universal RC Drone Quadcopter Backpack Carry Case, Black/Red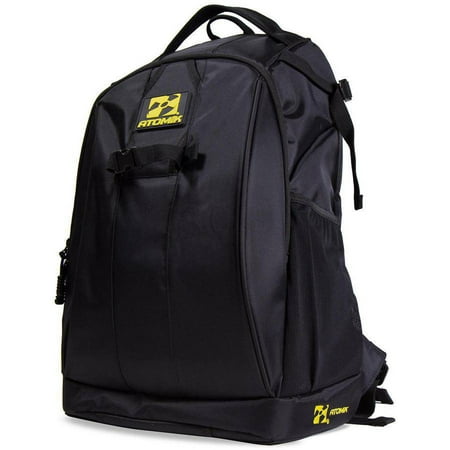 Conclusion
It is every pilot's responsibility to ensure safety when flying drones. This involves having a good understanding of drone laws, drone capability and limitations as well as safety precautions. In addition, the person flying the drone must know where to fly and where not, as well as how to safely land the UAV in case of an emergency.
Dji Phantom3-adv Advanced Drone Phantom 3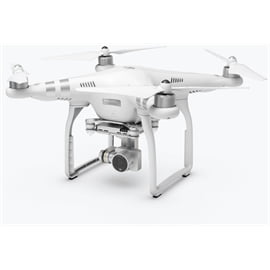 Parrot Pf725100 BeBop Drone and Sky Controller Bundle, Blue