Drum thrones, sometimes called drum stools, are paddled seats specially designed to keep music drummers comfortable. The drum thrones have evolved over years to improve the posture and comfort when playing the drums.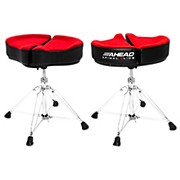 Ahead spinal G Drum Throne image

There are different types of thrones to suit any occasion, whether drumming for a songs or long periods. The throne may have a back rest, is adjustable or fixed height, advanced saddled cushions or round padded seats, among other configurations. In addition, it is possible to get a new or used throne for sale at  Guitar Center, hence a range of choices to suit your budget.